Sea Freight
Essential Tips To Choose A Sea Freight Company
Have all your specific questions about sea freight answered - simply complete the form!
Sea freight services have a complicated logistics process that requires a reliable international freight forwarding company to get your cargo shipment to your required destination.
Such are the complexities of freight forwarding by sea, it is important that businesses choose the right freight forwarding agent to ensure the delivery of their goods within the agreed transit times.
Choosing a sea freight company that fits your specific requirements can prove to be tricky, even more so if you are using such sea freight services for the first time.
Having the certification for working in the industry is obviously a primary criteria, but there are other three other vital elements worth considering before hiring any shipping company.
Sea Freight Experience
There are many situations in sea freight that require knowledge & experience in order to offer a smooth shipping service.

A vast network of agents helps guarantee that the freight company will effortlessly manage rerouting or other shipping problems in the origin country as well as the shipments' destination.
The forwarding agent should have the capacity to offer other services with reference given to transportation of goods.
Besides the sea shipping, the cargo will need to be transported from the port to the client, and this means using road or rail transportation for the final leg of the delivery.
International customs, port shutdowns, transit times and warehouse management are pertinent issues that a sea freight company should be thoroughly knowledgeable of and capable of addressing in order to offer a smooth shipping service.
These are matters that require experience and encompass the need to have an extensive network of agents in the destination country, as local knowledge is massively important.
Having a well-distributed network is crucial because it is an integral part of ensuring seamless and quick shipping for the clients
It is essential to consider such services if you are looking for delivery to the end-user and not just port-to-port cargo delivery.
Request a complimentary call back from one of our experienced sea freight experts - simply complete the form.
Sea Freight Service - No-Obligation Callback
Low Freight Rates
It's not about finding the cheapest provider, but about finding the best service for your budget.

While lower rates are always a factor to consider, it should not overshadow the need for getting quality cargo forwarding services.
"You Get What You Pay For" - let this statement linger at the back of your mind as you consider the rates of various sea freight services.
The problem with selecting a company at the cheaper end of the price scale is that there is a reason they are cheaper than other companies and it generally comes down to service and additional costs.
Sending shipments of goods overseas is not always a smooth process and with many different stakeholders involved things often go wrong and when they do the cheaper companies simply cannot afford to put them right, meaning that these costs, often substantial, are passed on to the client!
Hiring on the cheap is usually an expensive mistake and can result in your shipment being held up for significant amounts of time, or even being lost!
TE Shipping offer a bespoke sea freight service - speak to one of our experts about your requirements today!
Sea Freight Service - No-Obligation Callback
Solid Customer Support
Using a shipping company without a knowledgeable and responsive customer support team means that you are taking a massive gamble with your cargo!
Customer support is vital for your peace of mind
Work with a sea freight company that is willing to take you through the steps of export and import shipping.
Such a forwarding agency will be quick to answer any queries and offer pre-sale and post-sale support to ensure all the client's needs are met.
Consider these tips when looking for and hiring a cargo shipping services provider.
You will not only get your goods delivered on time but also enjoy other benefits of working with an experienced cargo forwarding company.
Contact us here at TE Shipping today and learn more about the sea freight services we provide and our affordable rates.
Sea Freight Service - No-Obligation Callback
Taking the stress out of sea freight shipping for all our clients
TE Shipping was formed with one word in mind: SERVICE.
Great service may be an old fashioned ideal but it is one which we put at the top of our priorities,
closely followed by the most cost effective and efficient method of safely moving your cargo with our UK shipping services.
Request A Complimentary Sea Freight Consultation
How Does Sea Freight Work?
Sea shipping, or ocean freight, enables a business to transport their goods internationally for sale in global markets.
International freight sea shipping involves the use of container ships that traverse the seas carrying billions of tonnes of cargo every year and whilst the individual unit costs are exorbitant, economies of scale make it an affordable way to move goods as full container load (FCL) are shared by multiple companies.
All the goods are packed into containers, in which transit space is booked through a freight forwarding company, and loaded onto a container ship, which then sails across the sea to its specified destination.
Upon reaching the destination port the goods are unloaded and with taxes and port duties settled by the shipping agent, are passed through customs and onward to the end destination.
Is it cheaper to ship by air or sea?

In comparison ocean freight is charged per container and containers can be shared and the costs split which generally makes it more cost-effective.
Unlike by air, when you ship by sea weight is not usually a consideration - it is all about the size of the goods and how much space they take up.
In shared containers the costs are calculated on volume - often by the cubic metre.
So, the larger and heavier your shipping cargo the more likely it is to be cheaper to ship by sea, but as the size of the required shipment gets smaller, the differences in price reduce and in some circumstances it can actually end up being more expensive to send by sea!
The unqualified answer is it is cheaper to ship by sea than to use air, however there are many qualifications to this depending on size and volume of the shipments, destination, required transit time and various other considerations.
To be able to make an informed decision it is necessary to understand the different charging rates for air and ocean cargoes.
The complexity of factors influencing these rates means it is extremely important to hire an experienced and knowledgeable freight forwarding company to help you.
When sending goods by air freight the cost will be billed based on the 'chargeable weight'.
Chargeable weight depends on the size and weight of the object(s).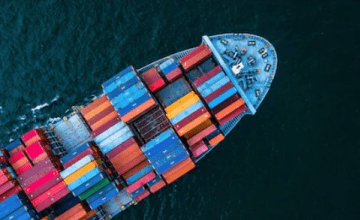 To work out whether you are better off using sea or air freight simply complete the form and we will call you back to answer all your questions.
How Do I Book Sea Freight?
The easiest way is to call a freight-forwarding company and they will take care of it for you.
As a freight-forwarder, TE Shipping deal with all the logistics of sea transportation, communicating with all the different parties that are involved in the international shipping of goods.
We will liaise with the shipping line who are carrying your cargo, we will also make sure that all the relevant documentation and clearances are in order for customs at both the export and import end of the journey.
Finally we will arrange the unloading, warehousing and transportation, usually by road, to the end-user's destination.
As you can see there is a lot to deal with when shipping overseas and to avoid expensive mistakes you will definitely need a good, reliable freight-forwarder with lots of contacts and experience of shipping to your chosen destination.
+44 (0) 1708 743400
Call us direct today to book your sea freight with our reliable and bespoke shipping service that ensures your cargo arrives on time.
To request a freight forwarding consultation simply complete the form and we will call you back and answer all your questions.
Alternatively call us now on +44 (0) 1708 743400 to discuss your shipping requirements.
Request A Complimentary Sea Freight Consultation